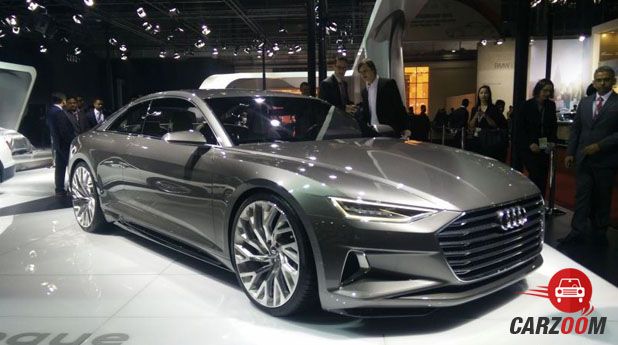 One of the showstoppers at the 2016 Auto Expo was the Audi's next generation Prologue concept. Leaner and aggressive, the car of the future attracted enthusiasts to the Audi's pavilion. The aim of showing the concept is to display the future design that will take in the form of next gen A6, A8, Allroad and Avant grade models.
In terms of design, the car gets ultramodern touches all around with long nose, multi slate front grille, sleep matrix laser LED headlights, big and elegant multi spoke alloy wheels, powerful haunches, sloping roofline displaying the coupe stance. The rear sports a 3D glass, elongated LED tail lamps, black aluminium diffuser and bumper gives it the eye catchy and unique look.
In terms features, expect all the advanced goodies such as new MMI infotainment system, android auto play, a screen running across the dashboard, automatic climate control, premium leather upholstery, seats with memory and massage function, adjustable rear seats etc. The concept also gets a system called 'butler' that identifies people according to their Smartphones.
The concept car measures 5100mm in length, 1950 in width and 1390mm of height and offers increased ground clearance as compared to previous two concepts.
The Coupe is powered by a gigantic 4.0TFSI Bi-turbo V8 motor that produces a colossal 597bhp output and high torque of 700Nm, the torque can be boosted by just switching to the over boost mode but limited to just 15 seconds. The massive engine helps it to achieve 0-100km/hr sprint in just 3.7 seconds with the top speed close to 265km/hr. The car is rated to deliver 11.62km/l of fuel mileage which is decent for such a performance vehicle.