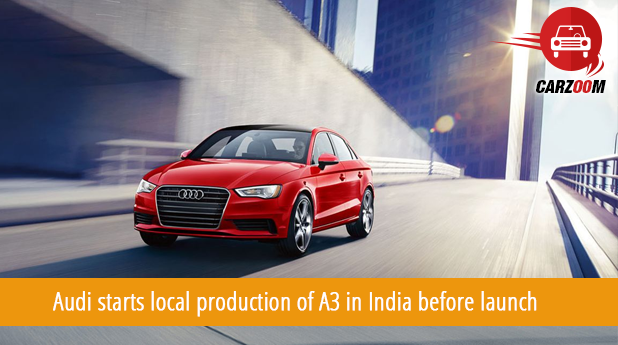 Audi is in full mood to increase its network in Indian car market. This is the reason company has started the production of its new model A3 even before the launch. It will be the first Audi model to be manufactured in India before being launched. This local production of A3 has been started by company in Aurangabad plant.
Before this, Audi's other models like A6, A4, Q5, Q7 and Q3 are also being locally manufactured in India but their production was started only after their respective launches here. At the time of launch, the completely build units (CBU) of these cars were imported.
"The local production of the Audi A3 Sedan in India is in continuation of our growth strategy and consistent focus on the Indian market," Audi Board Member for Production, Hubert Waltl said.
The new A3 is expected to hit the Indian car market floor by next 1-2 months with the expected price range of 25-30 lakhs. The car will be available in both petrol and diesel fuel mills. The engines A3 will get are already equipped in Audi's other line-up in India and doing a very appealing job. These engines are 1.8 liter TFSI petrol and 2.0 liter TDI diesel.
On asking about production of A3 in India even before it is launched, Hubert Waltl said, "The market potential coupled with the world-class infrastructure in the plant, efficient working processes, qualified workforce and a well-developed logistics environment were the factors that motivated us to expand the product portfolio at the Aurangabad plant".
If look at the records then Audi sold around 10,002 units in India in year 2013 which made it the very first luxury car manufacturer to cross the milestone of 10,000 units over other German rivals Mercedes (9,003 units) and BMW (7,327 units).