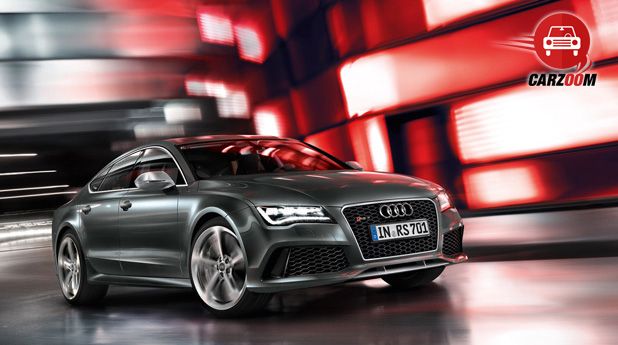 Based on the similar Audi A7 platform and design, Audi launched its new Sports Star a few months back called the Audi RS7 Sportback. As we said, it's based on the similar A7 theme, but as we also know, that A7 is one of the most distinctive looking Audis available, this makes RS7 even more special in its own way with a blended distinctive A7 design and an added RS badge as a proof that this is not just a normal Sports Saloon, but actually a 4-Door-Coupe-Sports-Saloon from Audi, a proof that this is not a normal, but a HYPER AUDI.
Based on these claims, our experts were all alarmed and they were all set to try out if this Audi is really that insane as it is rumored or not. So, they had a little day out with this mad Audi car and here are the inputs they gave us to cater you for a better understanding of this car in our Expert Reviews section of the Audi RS7 cover story.
Prices

Getting closer to this car, our team realized that this car is not only insane with a doped machinery and performance, but it is insane on pricing chart as well.
With a single variant of RS7 priced at around 1.31 Cr, this Sportback Saloon costs more than even the top of the line variants of the Audi A8 L or A7 flagship Saloons.
Engine Details

Heard already a lot about the engine, our experts were even more thrilled to actually discover the famous powertrain of this mad car.
Opening the bonnet, the car features a very distinctive 4.0 litre TFSI Bi-Turbo V8 petrol engine with a peak figure of power to be 560bhp and 700Nm of road creasing torque.

Performance

 The engine not only looked distinctive but also felt packed with raw and pure power with cutting edge Audi technology for a more refined yet brain-freeze performance from the car.
The car is expected and we witnessed to roar a top speed of 250 KMPH with an ability to attain 0-100 in just 3.9 sec flat.
Mated with same, very clean and crisp 8-speed Tiptronic AT system and Quattro with Audi Drive Select System, our team believes the car is made to perform even better than ever.
 Also, an Adaptive Audi developed Cylinder on Demand feature is installed in this car which ensures that only 4 Cyl are working when the others are not needed for efficient growth. Also, even with a slight push of the throttle, the system awakes the other 4 Cyl to juice the max out of all the horses of the car.
And it not just feels raw, but instead we have even more cutting edge driving equipments with Audi Adaptive Steering System and an Adaptive Air Suspension System with an optional Sports Suspension System combined with DRC (Dynamic Ride Control) and 3-stage adjustable damping for uber class and butter smooth handling of all that insane fun that we felt to be bit dicey otherwise normally, but with Sports package Suspensions and DRC, the car seems to work just fine. Also, under-Steering issue was also rectified which would otherwise occur during normal mode of driving.
Space and Dimensions

 The car, just like its A7 sibling feels lengthy and clean in stance with a total length of around 5012 X 1949 mm with a total wheelbase or around 2092 mm.
Apart from that, being lengthy, tall and broad enough, the car felt a bit tight on access and exit terms unlike its A8 sibling and just like its A7 sibling.
Interiors 

Getting inside, our team felt astonished with an all black theme around the cabin of the car with red stitch pattern all around the leather work with a red seat belt for added sportiness through it.
 Apart from that, what more features astonished us were-

Leather wrapped flat-bottomed Multi-Functional sports steering wheel with paddle shifters.
Alcantara or Valcona leather upholstery options in grey or black finish with honey-comb pattern embroidered with red-stitching on seats, which come handy with memory functions.
Optional metallic, fine Carbon or piano-black trims for the interiors.
An electronically retractable 8'' sporty central infotainment touch display and HUD (Heads UP Display) with MMI touch, gesture and voice controls just like the older siblings.
4-zone Deluxe Auto Climate Control System with individual controls for passengers
Optional BOSE or Bang and Olufson advanced 5.1 surround systems with 15 integrated speakers.
Groovy and meaningful RS badges around the cabin.

Apart from these, a WLAN hotspot for the car, 60GB HDD for entertainment storage, a sporty gear lever with chrome belt, and rear seat entertainment package comes handy in this car.
But unlike its A8 sibling, this Coupe like Saloon offers a bit tight space for the rear passengers as our experts note with considerable less shoulder and headroom. But still, there is enough of legroom comfort to bother.
Exteriors

Outside, we realized the very similar A7 inspired and based styling and looks with additional RS7 badges to differentiate it from its siblings.
Apart from that, a trademark Audi Single-Frame, Matte finished Aluminum frame with High Gloss honey-comb grille looks sporty in the front with tinted and swept back Audi signature headlamps.
We also noticed that the car gets larger side air intakes and integrated sports flaps.
The Coupe inspired body looks aesthetically appealing with fancy rear bumper which ends very neatly with a sporty and distinctive spoiler lip for a sharp end for a more aggressive feel.
Also, the infused bumpers gets diffused inserts as dual branched RS exhaust with oval tailpipe.
The whole body is based on Audi's Hybrid Aluminum design for a lighter and more agile structure of the car which stands on taller 20'' and an optional 3 other 21'' wheels to choose from for further distinctiveness.
Safety

 In safety measurements, the car being a sporty Saloon, had to have very promising primary and secondary safety elements like-

An aerodynamic spoiler which goes up after 120 KMPH speeds.
Adaptive Air+ Sports Suspensions+ DRC (Dynamic Ride Control).
ESC (Electronic Stability Control) system.
 Adaptive Cruise Control
Stop & Go function
Night Vision System with pedestrian locator.
4-Wheel ABS system.
Airbags for front and rear passenger's side, head and front.
Remote Anti-Theft system.
360 degree Park Assist.
Emergency Brake Assist
Engine Immobilizer
3-Pin and pretension front and rear seat belts.
Traction and Stability control

 In addition, our team noticed added safety features like integrated Audi Pre-Sense Safety System, Audi Side Assist System, and Active Lane Keeping Assist etc.
Final Verdict

Based on the same A7 theme, RS7 differs and feels a lot more different than that, and based on our Expert Reviews, we believe this car to be really a madder version of its sophisticated sibling packed with added oomph factor and horses under the hood, in total style and control. Interior comfort for the rear passengers will remain a dow