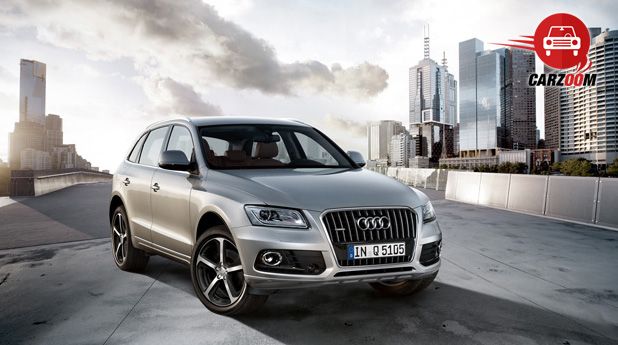 The main quality of every Audi models is its eye catching glimpse which compels the people to stop even on middle of the road just for seeing the beauty of this luxury car. Today we come up with one more model of Audi to explain its unexplainable beauty. This model is amazing Q5 which is said to be the combination of luxury and sporty car.
Price:
This luxury model carries three variants which have the price range of 45.39 lakhs, 45.72 lakhs and 55.92 lakhs, respectively.
Engine details:
The Audi Q5 has two diesel units while one is petrol. The petrol unit is powered by the 1984cc, 4-cylinder inline 2.0 TFSI petrol engine mated with 8-speed tiptronic transmission gearbox and develops the max output of 221.27bhp and 350Nm.
On the contrary, the two variants of diesel unit have 1968cc, 2.0 liter TDI and 2967cc, 3.0 liter TDI diesel engines. These two variants are mated with 7-speed S tronic automatic transmission gearbox and produce 174.33bhp and 241.38bhp, respectively.
As per its fuel economy is concerned, the petrol model offers 11.81 km/l while the two diesel model has the tendency to provide the mileage of 14.16 km/l and 13.22 km/l, respectively.
Space & Dimension:
Now it's turn to discuss about the space and measurement of this sporty car. This Audi Q5 carries the overall dimension of 4629mm x 1898mm x 1653mm with 2807mm, 200mm and 540 liters as the wheelbase, ground clearance and boot space of luxury model.
Interior:
It offers a spacious inside cabin with comfort legroom. The available luxury interior features with premium quality material verify the famous badge of Audi. Like other models of Audi, this one also gets a long list of equipments inside it but obviously according to its price range. This includes Leather 'Milano' upholstery, electrically adjustable front seats, manual blinds for rear door windows, sun visors on driver and passenger side, panoramic glass roof, front centre armrest, cruise control, 3-zone automatic AC, Audi music interface, Audi sound system, CD player, Bluetooth connectivity and some more.
Exterior:
Audi is that brand which always excites its customer by designing its models with so much creativity and full of feature equipments. When an Audi model goes on the road, people automatically turns towards it, this is the specialty of an Audi car. Same goes with Q5, it gets the combination of luxuriant and sportiness which makes it different from others. At outside, it has gorgeous grille by holding the four rings of Audi symbol and having shaped headlights like the bodyguards on both sides of this grille, the rear LED lights, exterior electric mirrors etc. The presence of 5-spoke rotor design alloy wheels in 3.0 liter diesel while 7-spoke design alloy wheels in 2.0 liter diesel n 2.0 liter petrol unit models give compliment to its stunning look.
It comes with many attractive color options which counts around fifteen and includes Vulkanrot Metallic Red, Scubavlau Metallic and Moonlight Blue Metallic etc.
Safety and Road handling:
Audi has equipped this model with the required safety features which ensures it proper handling and drivability. The ventilated large disc brakes along with the anti-lock braking system (ABS), Electronic brake-force distribution (EBD) and dynamic traction control (DTC) assist this sporty car to keep balance on road, to give comfort riding and also provide proper and well fitted brakes when needed. To increase its safety, many safety features like full-size airbags, rear airbags, first aid kit, anti-theft alarm with tow-away protection, tyre pressure monitoring display etc are armed properly in this car. To achieve 0-100km/h, Audi Q5 takes mere 7.1 seconds with top speed of 222km/h (in 2.0 liter petrol model), 9.0 seconds with top speed 200km/h (in 2.0 liter diesel model) and 6.5 seconds with top speed of 225 km/h (in 3.0 liter diesel model).
Verdict:
Pros:
Badge of luxuriant brand, Audi
Attractive glimpse, spacious and luxury features equipments
Cons:
Mileage figures could be improved.