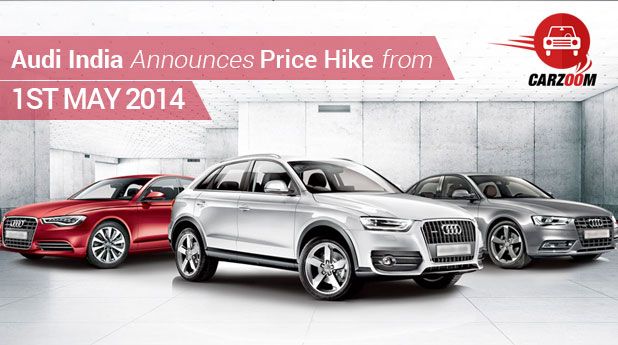 The German luxury car manufacturer Audi has declared the increment in prices in its models line-up of India. This price hike will be done by an average of 3 percent and will be effective from 1st May 2014.
As per the company, Audi has gained a hat-trick of Best-ever sales in India in the first quarter of ongoing year 2014. The gross sales of Audi India in March 2014 are 1404 units which is its highest in a month in India, recording an 18 percent growth year-on-year. According to Audi's official report, it also registered its best ever quarterly sale of 2740 units from Jan to March 2014 and its best ever Financial Year Sales of 10126 units  which is the first for a luxury car manufacturer in India.
"While Audi has exhibited stellar sales performance in 2013 and in the first quarter of 2014, the overall market scenario has remained challenging with the constant fluctuation in forex rate; thus resulting in a rise in input and operational costs. To address this, we have rationalized prices, but have ensured that the impact is as minimal as possible. Additionally, we continue to offer our customers innovative finance solutions from Audi Finance which will make their purchase more attractive," said Mr. Joe King, Head, Audi India.
Audi started the year 2014 with a notable step which was the introduction of most powerful Audi model from its product range, Audi RS 7 Sportback. As per an official statement released by Audi, the company also began new showrooms in various cities including Udaipur, Visakhapatnam and Nasik. This luxury car maker also surprised its fans by displaying various sporty models at the 2014 Auto Expo in February. Audi also showcased the third edition multi-city Audi Q-Drive 2014 in February.
In India, currently, Audi's models range includes Audi A4, Audi A6, Audi A7 Sportback, Audi A8L, Audi Q3 S, Audi Q3, Audi Q5, Audi Q7, Audi S4, Audi S6, Audi RS 5 Coupe, Audi RS 7 Sportback, Audi TT Coupe, sports car Audi R8, Audi R8 Spyder and the Audi R8 V10 plus.
And now Audi A3 is in list of new launch which has been displayed by the company in Auto Expo and expected to be launch by the end of this year.