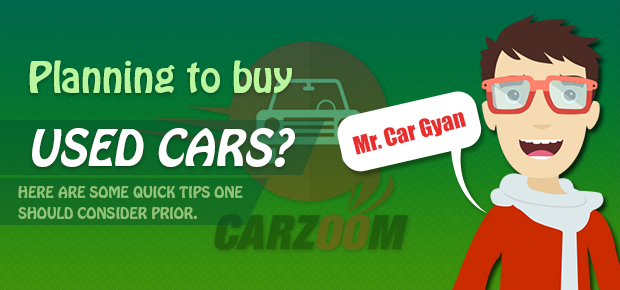 We @ Carzoom-India understand the need and requirement behind your decision of buying used / 2nd hand car. Here are some quick tips to make sure you decide well and don't waste in your saving by buying a scrape.
1) Various people, various needs, before planning 2nd hand car be sure why you need one:
It could be just to learn driving.
Routine travel to office/college.
For semi-commercial purpose.
It can well serve as an add-on to another car you possess.
2) Calculate your exact budget. Make a list of those cars which are available in your budget range. Budget wise list of Cars should be the prior things which need to be finalized first.
3) Locate a reliable and certified used-car seller. You can opt among these: Maruti true Value, First Choice, Hyundai Advantage, Cartrade etc. Reason to choose a reliable and certified car seller are:
You will not face any trouble in the entire paperwork.
Some certified used-car sellers give the after sale service of around 6 months.
Easy finance services are also provided by these sellers.
4) Its time to take a test drive now. Feel the car's comfort and performance by your own before purchasing. Check the car's efficiency, smoothness, acceleration. Also take a third party mechanic with you, as he will make sure that Car is as good inside as it look outside.
5) Check the car's history like the distance travelled by the particular car till that time. A diesel car should have the average distance of 15000 km/year, while the petrol car's distance travelled limit should be 12000 km/year. Do not purchase the car if it has covered more than 50000km in 3 years.
6) To research about fuel economy is must. Mileage has become a main concern now as the fuels rate has been increasing day-by-day. Some used cars consume more fuels and provide less mileage because of its old engine; hence go for that car which offers less mileage.
7) Car's age matters, so you must know how much older is the car and number of its ownerships till the date. A car should not be more than 3 years old and also give priorities to those cars which have used by just one owner before.
8) Verify the car's original papers and certificates properly. If the seller has original registration certificate (RC), warranty and maintenance certificate, then only make your deal. Also, ask for car's service-chart and claimed insurance, because it's necessary to know whether any accidental case has happened with it or not.
9) Negotiate the price, its one of the best thing in buying a used car. Do your complete homework first and then go to the showroom. Deciding on the spot just creates confusion, so visit online portals, other showrooms to know about the market price, it will help you at the time of negotiation.
10) Be ready to pamper it a little by getting it new cloths (seat covers), covering or removing scars, and make it feel young (proper servicing). Don't let yourself take it for granted just because its 2nd hand, love it as new hot wheel to ensure it serves to long time.
Just take care of above listed notes and buy yourself a car that would be worth for your every penny.