Automated manual transmissions are one of the biggest blessings for the Indian buyers as it not only prevent them for stressful driving but also enhance fuel efficiency of the car. Thanks to cost effective aspect of AMTs even first time buyers can have the luxury and experience of automatics without denting their pocket. Once automatic was considered as expensive technique for entry level hatch and might hamper mileage but thanks to AMT it has changed. It all started with Maruti Celerio followed by Alto K10 and now Renault joined the bandwagon equipping Kwid 1.0 litre with AMT.
Kwid became an instant success in the Indian market thanks to its unique design, first class in features and spacious cabin. Since its launch in September 2015, Kwid over 1.7 lakh bookings have been received and over 90,000 units already sold. It might be time for Renault to sit back and enjoy Kwid's success but it isn't the case when you have Alto to dethrone. Instead, the carmaker launched Kwid 1.0 in August this year and now Kwid AMT to tackle Alto automatic (AGS). So does AMT adds to the credentials of Kwid? Let's find out.
Price:
Renault is offering AMT with RXT (O) variant which means you get all the bells and whistles of top variant. And what further spice up things is AMT's price of Rs. 4.29 lakh (ex-showroom Delhi). The manual variant is priced at Rs. 3.97 lakh that means you get AMT convenience for just 30K over the MT trim.
Engine and performance:
Underneath is a 999cc (1.0L) petrol engine that produces [email protected] along with 91Nm of [email protected] It delivers 14bhp power and 19Nm torque more than the 0.8l Kwid. The 5-speed AMT aka Easy R-AMT is developed in house with Bosch and FEV. This is not the conventional gear lever kinda AMT instead it is a rotary dial mechanism with three drive positions – Neutral, reverse and Drive (parking mode is not available).
Like other conventional AMTs it didn't have the manual mode and you won't get creep function and hill start assist. We'd love to have that function as it is quite useful. The brake pedal has to be pushed every time you need to change the drive mode while parking mode is missing it has to be parked using N mode.
Now the question is how Kwid AMT behaves in real world conditions? Pretty good and smooth at most part. Kwid AMT is by far one of the best gearboxes on offer in its segment as it analyzes your driving mood without any fuss. The gear downshift very briskly and at same time gives you acceleration instantly.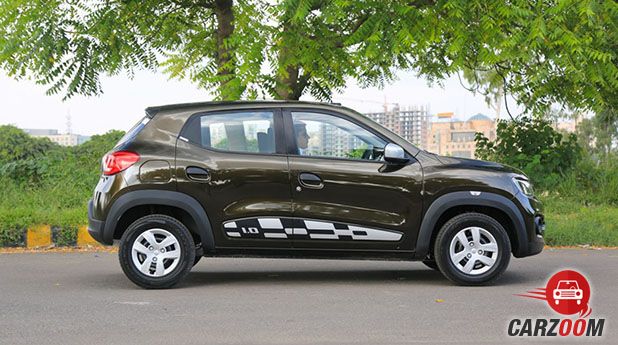 Handling may not be Kwid's forte due to skinny tyres and absence of ABS but still it inspire confidence at triple digit speeds. The gearbox works really well in city and offers sufficient pep to dart through traffic. Besides creep function, Kwid AMT's electric power steering is another niggle as it feels very light at low speeds. Renault claims that the AMT variant is capable of returning 24.04 Kmpl of fuel efficiency which is 1 Kmpl more than its manual variant. Overall, Kwid AMT turns out to be winner in almost every sense.
Space and Dimensions:
There is no change in this segment it continues to offer the same premium space. In place of gear lever it gets a big cubby hole which could be used for anything like water bottle, wallet etc. Though dimensions may look small but everything has smartly designed for more space while boot space is class leading at 300 liters. The biggest highlight is the generous legroom space for rear passengers.
Exterior and Interior:
In terms of design, things are identical except for the Easy R badge on the tailgate while chequered decals distinguish it from the 0.8l variants. So you get the familiar SUV-ish stance, muscular honeycomb front grille, jewel chunky headlamps, bulgy bonnet, flared wheel arches and plastic to add to its SUV look.
Even on inside there are no changes so again you get same 7 inch MediaNAV touchscreen infotainment system with Aux-in USB ports. The three pod large digital instrument cluster and digital speedometer adds to its modernity. Other amenities include dual tone dashboard, skinny front seats with integrated headrests and red upholstery, cabin lighting, piano black touch on steering wheel, central locking, two front speakers, twin glove box, and rear parcel tray. Since it is available on the top RXT (O) variant it gets drive side airbag and front power windows etc.
Verdict:
Kwid Easy R AMT is one of the finest gearboxes at present that combines with best in class space, features, fuel efficiency and power packed engine makes a deadly combo. The Kwid was already an affordable car and AMT along with aggressive pricing makes it a solid bang for your buck. It does have some shortcomings like absence of creep function, manual mode (at time you will miss this mode) and adjustment function for OVRMs. Despite, buyers looking for an affordable AT car should consider it as the top choice.