Whenever we hear news of Indian cars going through crash test we expect something fishy to happen it might be both negative and positive. Last experience of Global NCAP test wasn't good at all as we all know previous cluster of cars such as Datsun Go, Tata Nano, Hyundai i10 and even Maruti Swift performed shamefully bad scores. Now, fresh set of cars have been accolade with same level of disgraceful numbers i.e. a big zero.
The seven cars that got a zero star rating- Maruti Suzuki Celerio, Hyundai Eon, Maruti Eeco, three different variants of Renault Kwid and shockingly Mahindra Scorpio was also in the same list. Except Maruti Suzuki Celerio who gets a single star all the remaining scored two stars in Child protection segment. Maruti Suzuki has been the worst sufferer as its two cars Swift and Celerio have been hit badly as they didn't able to grab even a single star in the tests. The results show that carmakers are still not taking the safety of entry level hatchback segment seriously.
Today, Crash test has been conducted on Volkswagen Vento and it received 5-star rating in the ASEAN NCAP test thanks to electronic stabilization program (ESP).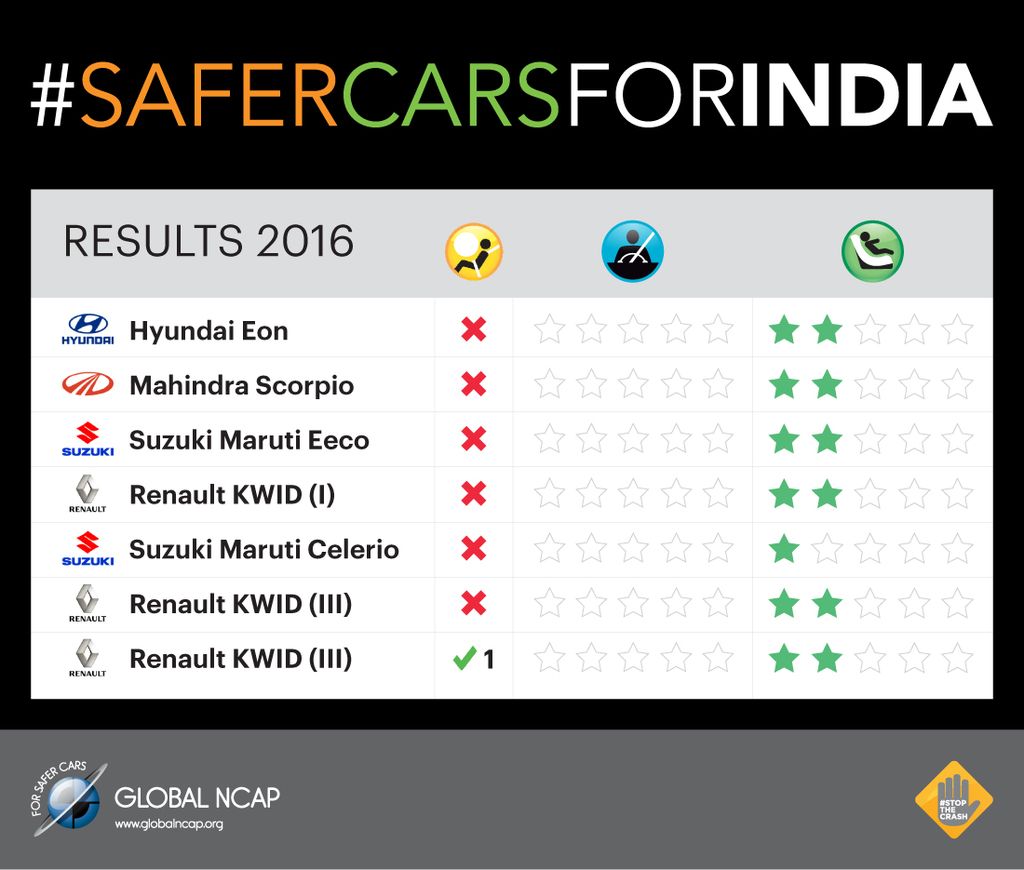 Mr. David Ward, secretary general of Global NCAP said, "The latest 'SaferCarsforIndia' results show how important it is for cars to have a body shell that can remain stable in a crash. This is an absolutely crucial pre-requisite for occupant safety together with fitment at least of front airbags. It is very surprising that a manufacturer like Renault introduced the Kwid initially lacking this essential feature. Global NCAP strongly believes that no manufacturer anywhere in the world should be developing new models that are so clearly sub-standard."
"Global NCAP also welcomes the forthcoming launch of a Bharat New Car Assessment Programme which can help build a market for safer cars in India," he added.