The entry level hatchback segment is quite crowded yet popular one and we are seeing the flood of new cars in recent times. We have Maruti Suzuki Alto sitting at the top with authority and no one catching it at least for next 5-6 years but lately it is facing heat from Renault Kwid and now Datsun redi-Go is ready to make further dent into the sales of Alto. Since its inception in 2013, Datsun hasn't set sales chart on fire with its first two offerings Go and Go+.
Despite at pocket friendly price range, they didn't impress the masses due to poor safety haunt and cost cutting measures. The company still giving one more try in the entry level segment with redi-GO which is one of the most awaited cars since it was first showcased at 2014 auto Expo. According to Datsun, redi-go will redefine the segment with its first in class features, revolutionary design and affordable price range.
Price:
The first and most important thing which goes in favor of redi-go is the price, thanks to 98 percent localization levels; it starts at a mouth watering price of Rs. 2.38 lakh and goes up to 3.34 lakh (ex-showroom Delhi) undercutting all its rivals and making it a great bang for your bucks.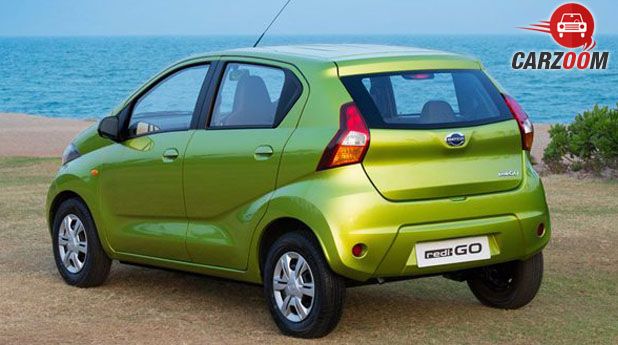 Engine Details:
The redi-GO shares its engine, transmission and even fuel efficiency with its one and only cousin Renault Kwid. It utilizes the same 799cc petrol engine which belts out 53bhp of max power@ 5678 RPM and 72 NM peak [email protected] RPM. Transmission options include a 5-speed manual and it claims to deliver a fuel efficiency of 25.17 Kmpl. The car is also claimed to achieve 0-100km speed in just 15 sec which is rated as best in class but in reality it took longer time to get there.
Performance:
The car takes its own time to come into motion but once pass the 2500rpm mark, engine really shines through. The mid range performance is quite agile better than Renault Kwid thanks to less kerb weight. The engine doesn't want to be pushed hard and if done so it became rather noisy inside the cabin showing the true character of three cylinder engine. It can rev at 5000rpm but it is advisable to keep it around 4500rpm because higher the rev, higher the noise creeps in.
The car maneuvers at low speed without much thanks to speed sensitive light power steering wheel and for such tall boy stance car, body roll plays minimal roll. The dog leg reverse gearbox isn't a smooth one as it will take some time getting used to it. The Suspension set up is good enough absorb the small potholes but the large ones will make their presence felt inside the cabin.
Space and Dimensions:
Datsun claims that redi-Go offers best in class space and carmaker could be right. Due to tall stance ingress and egress is pretty easy and tall front seats give commanding front view. Seats are thin but supportive and offer good under thigh support, adding up the Tall boy stance ensures well-organized headroom for six footers. Legroom for front passengers is pretty decent while rear passengers might be cramped for the legroom if there are three on board. The glove box is disapprovingly small offers very small space though there are plenty of spaces available inside. The boot stands at 222 liters which might not be class leading in front of Kwid's 300 liters but generous enough to swallow 3-4 bag packs.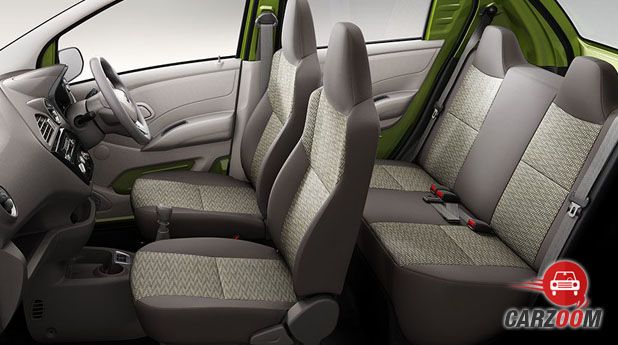 Exterior:
In the segment, one side you have the iconic Alto with its simplistic yet no nonsense styling, we have curvy Hyundai Eon pleasing customers with its design for some time now and we also have new Kwid on the block looking to dominate the segment with its muscular SUV-ish stance. The Datsun redi-Go with its curvy design, upright tall boy stance will try to grab your attention.
Starting from the front which has angular headlamps with integrated turn indicators, familiar hexagonal grille, sporty looking bumper with LED DRLs and low sling bonnet making it one of the better looking cars in the segment. The side profile has low waist line, character line which covers the entire profile and meets at tail lamps while the tyres look small. The rear has clear lens tail lights placed upwards and there's wide bumper, chrome plated exhaust pipe and faux skid plate adds to the urban cross look. It has some part bins of Chevrolet beat and Hyundai Eon but overall it is one of the cutest looking hatch in the segment.
Interiors and Safety:
As compared to last two models, the cabin has improved a bit but not at par with the competitors. The dual beige dashboard is way elegant and neatly done as compared to the dull interiors of the previous two gen models. As expected, there is cost cutting evident inside such as front seats have some metal parts exposed, no seats bolstering at the back and quality isn't great either.
In terms of features, the car isn't going to wow you though Datsun could have loaded it advanced some features like Kwid gets touchscreen system with navigation, digital speedometer. The redi-GO has a basic audio system which supports aux-in, radio and USB input while Piano black finish just adds some tinge of premiumness to it.
In terms of safety, the car doesn't offer much the top variant gets optional driver side airbag while rest didn't get it even as an option, there is ABS either on any of the variant even as option. Last but not the least is after sales service which is again hit or miss though is briskly expanding its dealership horizon.
Verdict:
The Datsun redi-go is undoubtedly the best Datsun offering till date in almost every aspect and offers a lot of good elements for first time car buyers. Redi-Go looks youthful and sporty, has cleverly engineered cabin, best in class fuel efficiency and tall boy stance and aggressive pricing ads to its advantage. Sadly, it misses out of good equipment list and safety features which nowadays entice customer the most. The redi-go might be a decent packaged product but isn't the trendsetter like Alto, Eon and even Kwid. Its cousin Renault Kwid which is pricier but offers a lot more and tempts with its SUV-ish design.