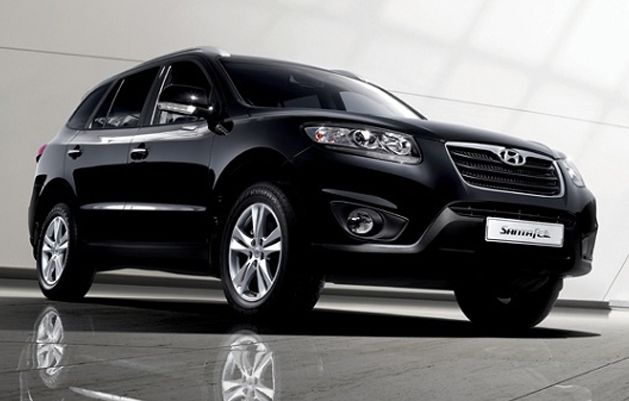 A user states that the vehicle is for 2 people only! Well he thinks that the rear, middle and back lack comfort. He drove the car few hundred kms from Nimbus Hyundai Noida sec-5 and on the Noida expressway and drove at nearly 180kmph with quick pick-up and observed the fuel efficiency to be 15kpl. Among pros are powerful engine better than rivals Fortuner and Endeavour and perfect road grip.
Another user who sold his previous car Toyata Rav4 V6 and got the new Hyundai Santa Fe is quite happy because of its silent engine and upgraded electronics. Being a music freak he just loved the sound system because of its brilliant quality and not to forget the Hyundai's Blue link. Among other features he praised were the Panoramic moon roof and rear heated seats. However he was surprised to find the car was not equipped with power lift gates and HID headlights. He expressed ecstasy when Mercedez commuters stared on his car. Well that's a feeling everyone would love to get, feeling proud to be a Santa Fe owner.
A user who depends only on Hyundai when he has to buy car is now a proud owner of his 2nd Santa Fe and 4rth Hyundai car. According to his observation a lot of improvements have been made from its previous version. After driving nearly 1200 miles he got mileage of 24-25 mpg in city and 32 on highway. Voice control feature functions well with Bluelink responding well to your commands. Digital info on the dash is useful to increase mileage and improve driving habits. He has rated the car 10 on all parameters: quality, performance, power and interiors. However he didn't get the power tailgate and chrome wheels in the 5 passenger car, which diminished his smile a little.
Well a reviewer doesn't recommend this car because of lack of important safety feature in the form of running lights. He questions Hyundai of why not including this feature in the SUV when it is already there in Hyundai cars. Now that's thought provoking!
A customer loves the gas mileage the vehicle offers and the XM radio but there are issues with the Bluetooth and non electronic driver seat. Yet another user who has had the car for 3 months before writing the review finds this one's better then Eclipse. He likes the solid ride quality and easy maneuverability. The vehicle is spacious, has good looking exteriors and good pick-up according to a user but at the same time he points out lack of independent A/C for passengers. He has been driving in snowy conditions and is elated to find the AWD functions well.
Overall the car is excellent look wise, gives good gas mileage and powerful music system and highly informative console, rear view camera, Bluelink but one disappointing factor is absence of power tailgate. Yet the fact is always true 'different people different perceptions', so test drive the new Santa Fe to make your own perception about it.