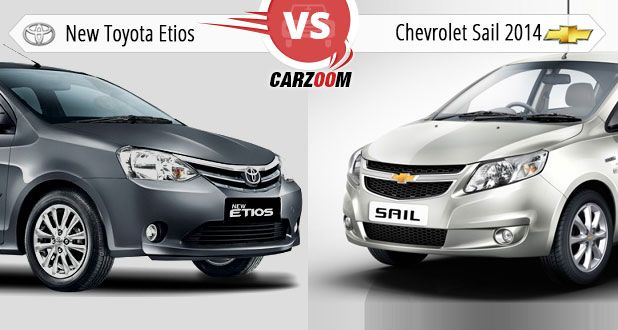 There is a never ending battle of the brands, conventional conflicts were about the better brand or the better car but now it's about a car versus and whether a brand sells the car or does the car sell the brand. Chevrolet Sail and Toyota Etios are creating this new cluster in the claustrophobic world of automobiles.
Price:
Chevrolet Sail is placed in the range of Rs. 5.19 to 7.64 lakhs whereas the new Toyota Etios is available for Rs. 5.74-8.16 lakhs which even though affordable in the Toyota range, is still expensive for many.
Engine:
Toyota has made a significant progress in engine the Etios range. The refreshed Etios petrol delivers power of 88.51bhp @ 5600rpm and torque of 132 Nm @ 3000rpm while Etios diesel offers 67.05bhp and 170Nm, giving you a claimed mileage of 16.78 km/l (petrol) and 23.59 km/l (diesel). This engine power gives the capacity to reach 0-100kph in just 15.48sec.
New Sail in comparison proves to be a disappointment with its 1.2-litre petrol which gathers only 82.5bhp and 108.5Nm of torque that too at only at 5000rpm giving you a claimed mileage of 18.2 km/l and other trim is diesel of 1248cc developing 76.93bhp and 205Nm of max output and peak torque. However Etios comes equipped with an Electronic Fuel Injection (EFI) system which supplies a continuously accurate air/fuel ratio to the engine all operating conditions providing  better drivability, fuel economy and emissions i.e. comfort, money management and less pollution.
Brand:
For the brand oriented buyers Etios is the undeclared winner as Toyota is currently the 4th largest car maker in India after Maruti Suzuki, Hyundai, Mahindra whereas Chevrolet falls far back.
Exteriors:
Chevrolet underlines simplicity and portrays a very man like built to its car with its hawk-wing style headlights, sporty Multi spoke alloy wheels and bold and refreshed front styling and its manly colors. Etios model Hatchback and Sedan both come in Xi and Xs derivatives. These models feature a front grille that is color-coded with a chrome finish, a chrome back door molding and front fog lamps giving them a smiley shape. The color-coded side mirrors and door handles and the steel wheels thoroughly compliment this design.
New introductions in Toyota Etios makes the car impossible to ignore as it not only portrays style but adds a topping of class, creativity and innovation against which Sail does not even stand a chance. The eco-friendly motto of Etios is clearly perceivable in the exteriors with features like new transformed front grille and silver shaded fog lamps etc.
Interiors:
Features such as bottle holders, rear armrest, ample leg space and boot space, Bluetooth enabled inbuilt sound system with AUX and USB ports, tilt steering, electrically controlled mirrors and air bags are common in both cars. The features that make new Etios irresistible are carefully designed air vents for even and proper flow of air,  2 DIN audio system and LCD screen, Anti-lock braking systems(ABS)  and the Electronic Brake force Distribution (EBD) which screams comfort even in a sudden break as it evenly distributes the pressure of the break.
On The Road:
Refreshed Etios triumphs again as even though both cars absorb most of the jerks and provide ABS+EBD system but when it comes to speeding and taking all those narrow turns Etios is unbeatable. Moreover with the sleek and comfortable gear box the gear changing is far easier in Etios than in Sail. Also in Sail when you accelerate the car takes time to push enough speed however Etios does this with complete ease and rapidity.
If you are ready to let you pocket out a little and afford Etios nothing like it as not only is it the best among the bests from design to engine but is also eco- friendly and a correct package of sporty and elegance. Sail on the other hand can't be said to be a completely inferior car, it defiantly has value for your money in terms of mileage and affordability. If you not a speed freak or a style oriented person Sail should be the logical option.
Pros & Cons:
Chevrolet Sail Pros:
Competitive Price
Sufficient safety features
Excellent ride quality
Chevrolet Sail Cons:
Fuel economy of Diesel is comparatively less
High NVH level in Diesel engine should be reduced
Toyota Etios Pros:
Bigger boot capacity is an advantage
Efficient fuel efficiency of Diesel engine
Spacious  family sedan
Toyota Etios Cons:
Unconventional Dashboard
More features should be added
Higher price