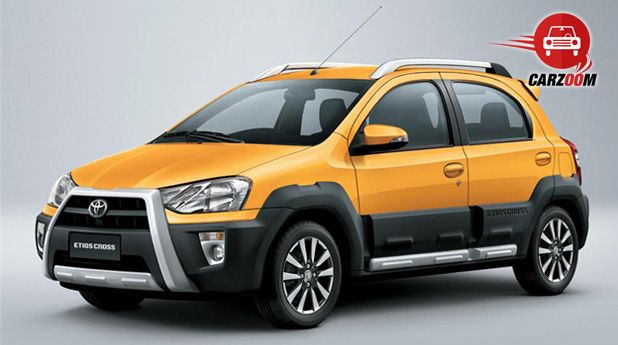 Toyota finally launched the rugged version of its ongoing hatch Etios Liva and named it as Etios Cross. It was said to be one of the much awaited cars of Indian market and customers were eagerly waiting for its launch after taking its glance at 12th Auto Expo, company had started to accept its bookings too at the same time. As price and other details are revealed now, let's see what experts have to say on this.
Price:
– For the car lovers who want to own a sporty model but their pocket doesn't allow them to cross six digit figures, this new Etios Cross is really a quite deserving and affordable model.
– The Etios Cross is available within price brackets of 5.76-7.40 lakhs (including both petrol and diesel trims).
Engine details:
Available with three engine options, out of which two is of petrol while one is diesel.
1.5 liter petrol is the active one amongst all three engines including 1.2 liter petrol and 1.4 liter diesel.
Offers a good ride on highways and in city as well.
Thanks to its less body weight, the fuel efficiency of this Etios Cross is much impressive in both petrol and diesel units.
Performance:
Engines are similar to Toyota's ongoing Etios sedan and hence provide similar on-road performance like Etios which is already popular for impressive road driving.
All three engines provide a good drivability but as always diesel one has most economic nature.
One can feel slight noise at the time of starting diesel model but it will be balanced once the engine warms up.
Decent handling even in city roads.
The Etios Cross is easy to drive, thanks to its light steering wheel.
Space & Dimension:
Dimension wise, just a stretched version of Etios Liva by carrying 120mm longer length, 40mm more width etc.
Luggage capacity of just 251 liters seems li'l cramped and could be improved a bit.
Toyota didn't even improved Etios Cross ground clearance which was strongly recommended coz of car's crossover nature.
The clear height has increased by just 4mm; it may be because Etios Cross carries tyres of 15-inch.
Interior:
At inside, a feel of Etios badge comes up in mind. Interior seems similar of Etios and Etios Liva with some ups and downs.
Material quality and its premium feel have been improved.
 On the name of change, its instrumental panel is now available in piano black finish and chrome accented AC vents, power steering having audio controls in it (only in top end variant as a standard feature) etc are available in it.
Exterior:
Basically a rugged and sporty version of Etios Liva.
Bold and muscular face along with smartly designed grille guards, skid plates and roof rails.
Availability of eight color options including Orange, Red and Blue are complementing its SUV glimpse.
Safety:
Being a SUV model, company has increased the safety level of this new car.
The dual SRS airbags, ABS with EBD are now available in its top end variants as standard features while Etios and Etios Live has these as optional ones.
Verdict:
Though, other car manufacturers like VW has done such types of experiments by introducing Cross Polo but still it somehow couldn't get as expected sale figures. As now its turn of Toyota, so we can expect something better and its price range and Toyota's brand image somehow assures us that it will touch the appropriate sales counts.