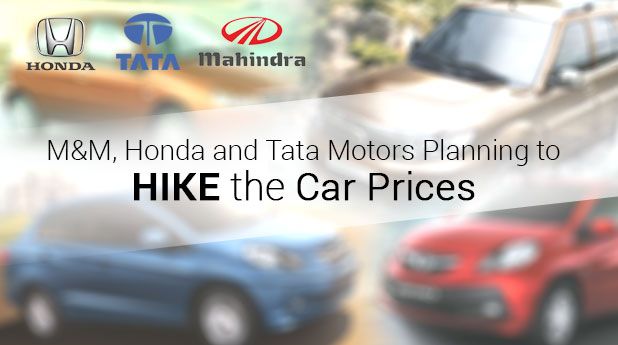 After the reduction of excise duty, car makers recently reduced the prices of their model(s) line-up in last month but now the rumors are on high that companies are all set to increase the prices again. In this queue, the companies which are on top this time are Mahindra & Mahindra, Honda and Tata Motors.
As per all these companies, the parts of cars which are imported from abroad costing very much due to the rupee depreciation in India which also result in increment in functional cost of cars, therefore this price hike is necessary. It is in process and will be allowed from the next month.
"We are actively contemplating increasing the prices of our vehicles in April due to increase in input and operational costs. We have not yet taken a final decision on the quantum and timing but this a matter we are seriously considering right now. It will happen for sure in April," Mahindra & Mahindra Chief Executive (Automotive Division) Pravin Shah told PTI.
Though it has not decided yet by how much hike will be faced by the Mahindra's cars. Recently in last month, company has reduced the price of its passenger's vehicles from Rs. 13,000 to Rs. 49,000.
Contrary, Honda has not confirmed this news yet. A source stated that discussion is still going on but there is a possibility for sure. After facing the price reduction in last month, Honda's models are available with-in price range of 3.99-24.36 lakhs this time.
As far as Tata Motors is concerned, there is possibility of prices increment of its line-up in India by 1-2 percent. Though, no official statement has been released yet by the company.
Other companies like Renault, Maruti Suzuki and Hyundai etc are also planning to inflate the price as well by the next month. The Indian Automobile Industry is going through a slow time since the last year 2013, though there was a hope of activeness in it by the price reduction held in February but as cost is being hiked again, that hope seems to be diminished now. Let's see what circumstances car market will have to face further.