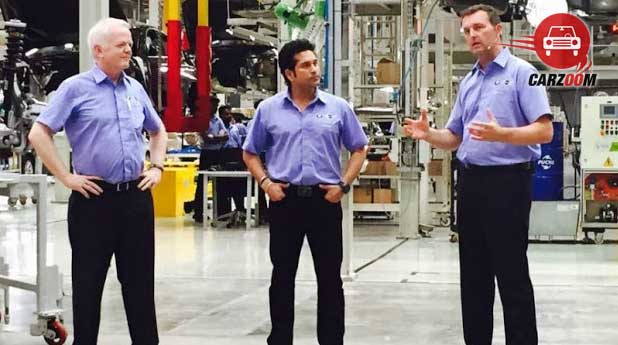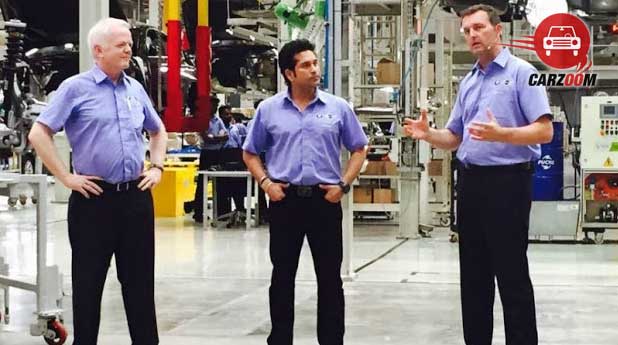 In February 2015 BMW announced the localization of its components at its plant in Chennai and declared partnership with many Indian firms. So BMW India has further strengthened its commitment by increasing up to 50 percent localization of content parts used in cars at its plant in Chennai. Cricketing Legend Mr. Sachin Tendulkar and Phillip Von Sahr, President of BMW India group and Robert Frittrang, MD of BMW plant Chennai were present in an event to celebrate the initiative.
During the event Sachin Tendulkar along with BMW India engineers assembled a BMW 5 series using auto parts from Indian component suppliers.
Mr. Sachin Tendulkar said, "I am an avid BMW enthusiast and have been driving BMW cars since a very long time. But the experience of making a BMW with my own hands was unique and unforgettable. I am impressed by the high quality standards followed at BMW Plant Chennai that ensure the impeccable performance of a BMW. I got the opportunity to go through the tiniest details and efforts that are put into making a BMW. Next time I take my BMW out, I can proudly say – I have made one!"
BMW Chennai plant started operations in 2007 and since then BMW has increased the number of locally produced car models in the country. BMW currently assembles BMW 1 series, 3 series, 3 series Gran Turismo, 5 series, 7 series, X1, X3 and X5 on its two assembly lines.
Mr. Philipp von Sahr said, "The BMW Group has always looked towards India with a long-term perspective and our strategy is based on an inclusive approach. We have continued to build our operations in India in a systematic way. With a strong portfolio of locally produced cars, the time was appropriate to partner with major Indian auto component suppliers. This decision benefits BMW in terms of cost optimization and value addition while at the same time it creates business and profitability for our suppliers – a win-win situation."
Some of the major auto components sourced locally by BMW India are: engines and gearboxes from force motors, Exhaust systems from Tenneco automotive India, door panels and wiring harness from Draexlmaier India, Axles from ZF hero chassis, seats from Lear India and HVAC (Heating-air conditioning-ventilating and cooling modules) from Valeo India and Mahle Behr.
BMW has invested around Rs. 4.9 billion in India with wide range of activities across the country including a manufacturing plant in Chennai, training centre at Gurgaon (Delhi-NCR), warehouse at Mumbai and 40 sales outlets in India.
Mr. Robert Frittrang, Managing Director, BMW Plant Chennai said, "BMW Plant Chennai takes pride in producing cars that have the same international quality standards as any of the BMW production and assembly facilities worldwide. Highly skilled employees, advanced manufacturing processes along with state-of-the-art machinery and technology provide all the necessary ingredients to achieve these tough standards. The cars locally produced at BMW Plant Chennai now feature very strong local content. We are confident that through our partnership with Indian auto component suppliers, we will set even higher benchmarks in quality standards and supply chain management."