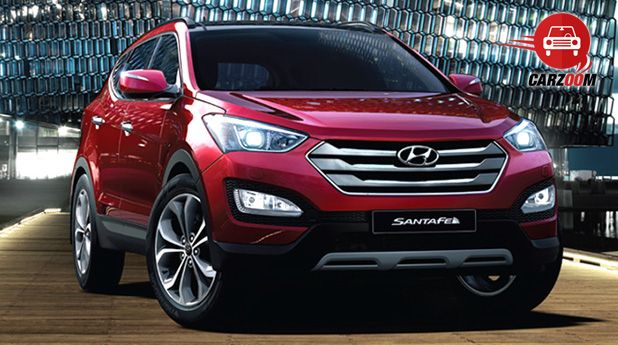 Hyundai is a well-known brand name among Indian car lovers which has already given a long line-up of successful models in market including the muscular Santa Fe. When company has brought its facelift model at the recently held 12th Auto Expo 2014, it once again attracts customers as well as experts and critics attention towards it. Here critics are telling why it is known as one of the muscular SUVs in India but still disappoints in terms of the sales somehow.
High:
– Availability of powerful diesel engine with impressive power and torque which suits on this huge size of car.
– This diesel engine is noiseless and responsive which tends to perform well on road and also offers a much better drivability.
– The presence of 4×4 wheel drive system along with 4×2 as well ensures its balanced handling on road. Also, gearing-up with an automatic transmission is a bonus point.
– Spacious inside with seating capacity for seven passengers and car boot of 585 liters (after folding down the rear seats) and also having sufficient space of legroom and headroom make this new facelift Santa Fe absolutely perfect for a family or friend based trip.
– The facelift Santa Fe has gained an all-new look which is more attractive, muscular and sportier than its predecessor.
Low:
– The major drawback of this sporty model is its high price range which varies from 26.3 lakhs to 29.2 lakhs. There are many other same segment models which are as similar as Santa Fe or even better than it but with the tags of much affordable price.
– This is the reason why Hyundai's this powerful SUV fails to gather its customers. Company should give attention towards this point if wants to increase the sales of Santa Fe.
– The Santa Fe doesn't seem pocket friendly even after purchasing; its maintenance cost is much high which can create a trouble for its customers.
– It could be more fuel efficient. By having such powerful engine and impressive power n torque, this SUV has tendency to produce better mileage figures but here it disappoints.
– The new Santa Fe offers mileage figures of 14.7 km/l in manual while 13.01 km/l in automatic variant. If we compare this figure with its other same segment rivals then it seems clearly that it could be improved by a big leap.