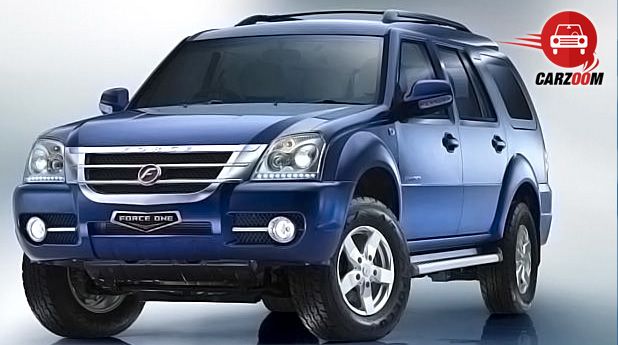 With actually only a fleet of two vehicles, Force India is still trying to hold on to the Indian Automobile Market. And that's why, it has to keep striving and make efforts in order to hold and maintain a firm market position. Keeping par with the same concept, it earlier introduced its much fancy Gurkha with some niche market off-roader abilities. But the thing of much rejoice these days, became a new addition to the Force One lot variants, an LX 4×4 variant launched just a few days back. And with this new addition, our experts were quite interested in trying out the whole One series and so, we here, have brought to you the insights from what our experts got to learn and experience about this almost-Budget Class SUV present in the market, in our Expert Reviews segment.
Prices
In pricing segment, we believe with these features and engine options straight from the Daimler AG stable, Force has certainly been very charming in pricing here.
 The prices go like this (All prices are Ex-Showroom Delhi)

EX (7 seats) costs around 9.26 lakhs.
SX ABS (7 seats) costs around 12.27 lakhs.
SX ABS (6 seats) costs around 12.35 lakhs.
LX 4×4 ABS (7 seats) costs most around 13.98 lakhs.

Prices according to specs to our experts seem fairly decent. The product overall, could have been more value for the same price though.
Engine Details
Under the large hood, there breathe 2 consecutive, powerful and performing engines.
The smaller, 2.2 litre FMTECH, Common Rail, 16 Valve, OHC, VGT diesel engine placed in both SX and LX variants is better performer with figures around 141Ps and 321Nm and are pretty tough and reliable in terms of performance in total efficiency as our experts comment.
While the bigger milled EX variant would more be on efficiency and economy side with a much sober 2.6 litre TD2650 FTI diesel engine with same Mercedes genes mated with advanced turbocharged intercooler, Direct Injection which churns out decent yet low energy with 82Ps and 321 Nm for more efficient, leaner and sober drives with better low end grunts.
Performance
Overall performance figures of the car are really impressive with two very sharp and refined engines borrowed from Mercedes-Benz, but car will better impress you with nice mid-range grunt, with initial lags, than low-end grunt.
Apart from that, the car comes with a very neat 5-speed synchromesh gear with cable shift, which according to our experts provides decent shifts, not crude but not as effortless either.
On ride, with nice yet softer front and rear suspensions, we found that the car feels really good for on and off terrains.
Though there is bit roll on very hard corners due to considerably soft suspensions, still a good and confident feedback from the functionally live steering wheel is there to compensate for the same.
A 4WD Electric Shift with LSD (Limited Slip Differential) seemed very fresh and functional for the LX variant to switch the vehicle between 2×2 or 4×4 modes for quite niche off-roading abilities this car had to impress our team with.
But, the overall ride felt improved, dynamic and comforted than many other Puny Indian SUVs, thanks to Lotus Motor's engineering really.
Space and Dimensions
To be really honest, this SUV is so humongous that our team actually named it as XL sized SUV.
With total dimensional figures of around 4860 x 1780 x 1885 mm and a grand wheelbase of around 3025mm, this car indeed is huge.
Apart from that, with a tall GC of 205 mm, this car feels enormous yet very spacious from the inside.
It certainly makes its presence felt on roads we could tell.
Car is big on space with huge amounts of room for all the three rows with enough leg, head and other rooms. But the headroom in the last row was found a bit tight.
The seats are comfy but with lacked thigh support, long rides would be a bit hassling job.
Best thing is, even after the third row, you get enough luggage space to just fit in things with ease. Space of the car is a big plus point really we felt.
Interiors
Inside, our team found that the car was decently packed with decent features like-

Wood-finish internal panels.
All beige interiors.
Leather wrapped steering wheel with easy-used mounted controls and sporty gear knob with chrome bezel.
JVC 2-Din music system with USB, AUX-in, Bluetooth, 30 display color options and 4 speakers all around the cabin.
Leather upholstery.
Arm rests with utility box for front passengers and driver.
Captain seat option with arm rests and cup-holders.
Powerful HVAC system with individual controls for all the three rows.
Multi-Information display in IP.

Apart from that, we found that the overall quality of the material used inside and fit and finish need more consideration as not up to the standards.
Also, some market topping features were also seen missing from entertainment and creature comfort sections.
Exteriors
Being to the point, our experts were pretty straightforward when they claimed that Force One has not got the looks to kill.
The car surely looks a lot large in size, but styling is where the whole matter takes a backseat with very simple, common, yet tough and masculine profile.
Still the clear headlamps infuse with projectors, DRL LEDs, chrome front grille, ORVMs, bold wheel arches molding, aluminum side stepper, roof rails, chrome plated twin exhausts etc. are some of the complimentary features.
Safety
As our team noticed, you won't get much of high end safety features in this car and most of the time, you'll have to rely on the good driving instincts of the car for same with some added safety measures such as-

ABS+EBD
Cruise Control
Reverse Park Assist
Driver seat belt warning
Brake pad wear indicator
Central locking
Dual SRS airbags
Over speed warning (innovative)

Apart from that, some good off-road features could have surely been placed. Still, with dual front Discs and good ABS systems, the car runs fairly well on safety drives.
Final Verdict
Our team, after a detailed analysis of this SUV told us that it seems more than decent to them if only people could live with an average SUV face, a bit slushy interiors and less features on board, for better in class space, comforts, driving dynamics and overall performance magnitudes.