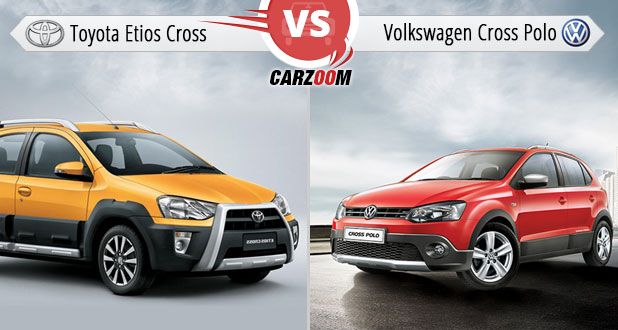 As soon as the New Toyota Etios Cross came to the market, it made rivals everywhere in many segments. But to be really honest, if there is any true and more unbiased market rival to Etios Cross, then it is none other than the Volkswagen Cross Polo. As both the cars belonging to the same Hatch-Cross Country segment and being the only two cars of the segment, we couldn't help ourselves to let go of them without having a healthy comparison between them. And so, we bring you a comparison between Toyota Etios Cross versus Volkswagen Cross Polo.
Prices
In pricing, both these cars have indeed taken the competition in a very competitive spirit pricing almost similar. But still Volkswagen offers a single variant of Cross Polo at a higher price of 7.76 lakhs as compared to Toyota's range for the Etios Cross and its three variants to be around 5.76-7.40 lakhs. And so, Toyota here seems more affordable over Cross Polo with more compact price loop.
Engine and Performance
Engine wise, Toyota offers a range of three engine sets with a 1.2 litre 4-Cyl DOHC petrol with 78.9Bhp and 104Nm, another and bigger petrol mill which is 1.5 litre 4-Cyl which generates 88.7Bhp and 132Nm and finally a 1.4 litre 4-Cyl diesel mill with max output of 67.07Bhp and 170Nm to be the lowest. In contrast, Volkswagen has to offer a single 1.2 litre 3-Cyl diesel engine with max engine outcomes of 74Bhp and 180Nm.  In this respect, Volkswagen offers a better diesel mill than Toyota's lethargic one. But Toyota offers more variety of engines with better performance options in its bag full of fun.
Apart from that, both companies would offer you MT system in their Cross versions and hence both would be moving head on head in here, with engines mated with smooth and slick transmission systems.
And finally, in mileage count Toyota offers efficiency from the petrol trim around 16.78 KPL and 23.59 KPL offers the diesel, while Volkswagen seems a sipper with mileage of around 22.7 KPL from its only diesel trim.
Hence, Toyota here is a sure shot winner for us with better options, refined engines and less hassle as compared to Volkswagen's expensively running engines.
Drivability and Safety
Both cars offer almost equal level of driving fun being more oriented towards city driving with better handling, drivability and safety features. But hardly any of them comply with the true significance of a Cross Country Vehicle. Still the standard safety features like ABS with EBD, engine immobilizer, dual SRS Airbags is made sure of in both the cars.
And hence, with equal levels of safety counts and driving appeal, both these cars go head-to-head towards our next segment sticking in a tie situation.
Interiors and Exteriors
Don't mind if we seem too judgmental, but with those German benchmarks and quality assessments, Cross Polo seems a better looker amongst both with new 'Cross' grille, bumpers, front and rear with chrome and silver accents, Black side cladding and molded covers for wheel arches and rocker panel, Silver roof rails, and more classy skid plates etc. While the Etios Cross offers very basic plastic cladding on wheel arches as well, all-new front and rear bumpers along with a guard on both ends, garnished and updated headlights, roof rails, integrated ORVMs (in both) etc. but still, with more classy and popular design schemes of Volkswagen, Toyota somehow feels a bit low in overall appeal, but comes with 8 sporty Color options to choose from for more likeability amongst the customers.
Inside as well, with high quality scratch resistant plastic interiors, 'Climatronic' air conditioner, classy 'Livon' Titanium black upholstery, leather wrapped gear-knob and steering wheel, Bluetooth connected Audio system etc. feels more austere over Toyota's new yet simple looking Piano-Finish interiors with considerably dull of dashboard plastic, an integrated audio system, chrome bitten gear-knob, and leather on steering wheel feels rejuvenating but dull in comparison with that of Volkswagen Cross Polo.
Never mind, Toyota still manages to fulfill this normality, remember the interiors are regular but not cheap, offering better space and comfort levels for passengers with almost equal levels of creature comforts, maybe less, but not disappointing. And an 'Etios Cross' badge on all black fabric stitched seats add more glare to the overall appeal of the car.
Still, for us, the German makes a better bet only if we compromise on space and comforts.
Pros and Cons
Toyota Etios Cross Pros:
Engine options
More spacious
After-sales service
Toyota's trust 
Toyota Etios Cross  Cons:
Volkswagen is better looker
Very casual interiors
Interior functionality 
Volkswagen  Cross Polo Pros:
 Better looks and body built.
Composites
More sporty interiors
Ergonomics
Volkswagen  Cross Polo Cons:
Expensive ownership
Low mileage
Only one engine
After-sales service 
Final Verdict
With a very close comparison between both the cars, if only you could compromise just a little bit on looking department, not much, then we suggest you to go for Toyota Etios Cross with much refined engine options to choose from according to one's choice, rather than sticking to the only diesel trim of Volkswagen Cross Polo. Also, we don't see much Cross Polo(s) on road, which suggests its lack of customer attraction and hence, this could be a chance for Toyota to hit the iron, it is really red-hot.