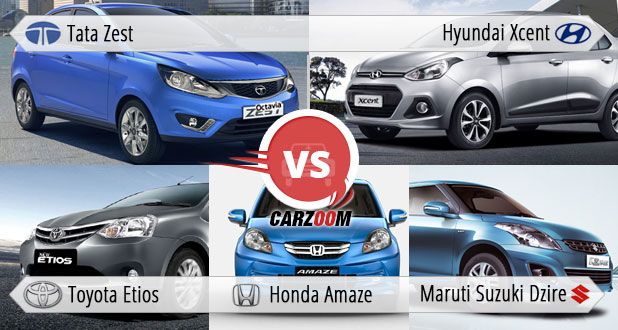 After creating lot of buzz around the country, Tata has finally launched it's much awaited and much talked about compact market Sedan, 'Tata Zest'. As a result it is exciting to see how it throws a competition collectively for the existing compact sedans like Hyundai Xcent, Toyota Etios, Maruti Swift Dzire, Honda Amaze and Upcoming Fiat Viaggio in the market in our Tata Zest versus rivals segment based on frequently noticed features or characteristics of a car like-
Price affordability
Look of the car
Powerful engine & fuel efficiency
Brand image & After-sale services
Let's see how well the comparison goes around, against Tata Zest.
Tata Zest vs. Hyundai Xcent 
Price affordability:
In affordability account, Hyundai has something to offer to its customers to make them rejoice, whereas Tata comes cheap, but only in price.
Hyundai prices its Compact Sedan at very bearable and competitive range with the petrol version costing around 4.70-7.23 lakhs where on the other hand, diesel version is available for some 5.61-7.42 lakhs.
Tata Zest petrol trim starts around 4.63-5.99 lakhs which is quite lower than what Hyundai is offering and Diesel Zest is available between 5.64-6.99 lakhs again way lesser than Xcent.
As a result it makes Tata Zest affordable deal. 
Looks of the car:
Hyundai Xcent looks charming, threatening many competitors in the segment with its looks.
Whereas, Tata Zest looks fresh amongst the Tata lot with refreshed and revamped factory looks.
But beating Xcent on beauty element is not an easy deal here, even from the inside; both the cars offer best in class material built for cabin and seem similar mostly, but with Hyundai offering more for comfort of the passengers with better space. Tata Zest looks way too compact in appeal and fits tightly for a 5 seater. This makes Xcent, as our pick between both in the segment for this comparison. 
Powerful engine and fuel efficiency:
In a comparison between the engines of both the cars though, Tata seems fresh in presentation and better on paper.
With new 1.2 litre Revotron petrol and conventional 1.3 litre Quadrajet diesel engine, Tata Zest seems more practical with strong, powerful and fresher engine fleet.
On the other hand, Hyundai offers 1.2 litre petrol and a 1.1 litre diesel engine which not only feels low, but offer poor low end grunt making Xcent not so suitable city-boy.
But on the other hand, Hyundai seems to compensate its customers with a smooth and slick 5-speed AT and MT system. Tata too is offering F-tronic Semi AT in one of the Diesel trim and MT system in Petrol Zest, which is a brilliant step taken by Tata.
Whereas, mileage sums for the Zest is 17.6 KPL for Petrol version and 23.0 KPL for Diesel which is way less than Xcent's which offers 24.4KPL from the diesel mill, 19.1 KPL from MT and about 16.9KPL from AT petrol versions of Xcent.
This makes Xcent a better deal over Zest.                                                                 
Brand Image and after-sales service:
In the segment of comparison though, Hyundai seems to maintain its superiority over Tata with much reliable customer feedbacks and better image in the market as a brand.
Tata with its not so shiny Brand image, it is famous for its unreliability and long term ownership issues with its products, shaky after-sales service, resale value and image of the brand amongst the customers.
Final verdict:
Hyundai Xcent is our choice for a more reliable and satisfactory experience. But Tata has put all the thinking and innovative designing in Zest which is yielding better performance and it looks best among the Tata cars and giving a stiff competition to Xcent's excellent design and performance.
 Tata Zest v/s New Toyota Etios
 Price affordability:
For this specific comparison, Tata Zest makes more affordable deal over new Toyota Etios most probably.
Being more of a proper Sedan like car, Toyota very proudly demands around 5.74-8.16 lakhs, which certainly end on a higher note than any of the existing Compact Sedan.
Tata Zest arrives with the price between 4.64-6.99 lakhs much lower than New Etios.
Price section clearly belongs to Tata zest with much more affordable price than Toyota new Etios.
Looks of the car:
To be really honest here, we love Toyota for its Quality Revolution, regardless of the way it looks or shows off.
Toyota carries very basic features which can't be claimed as the most charming, while Tata Zest is one mean looker with more aggressive and stylish design appeals.
But Toyota, with its overall built would surely give you more delightful Sedan experience with a full length Sedan body and space which Zest falls behind.
Interior wise Zest is the best of Tata, Toyota carries very basic, regular and comparatively dull appeal.
So on overall level, we think Zest is a better car in the looks segment and if you don't really care much about rear passenger space, Zest also has decent space, but not fine as you will experience and cherish taking a backseat in Etios. 
Powerful engine and fuel efficiency:
Apart from being reliable and long lasting, New Toyota Etios disappoints us in any way and then its low powered diesel engines.
Toyota Etios, which comes in two engine variants for both the fuels i.e. 1.5 litre petrol and  a 1.4 litre diesel, is massively powered for petrol, but diesel disappoints us with much less figures in count, making it ultimately a low performance, slow mobile against its rival here.
As discussed earlier, Tata with its more performance capable engine set looks promising this time around.
While another lag for Etios is its only MT option against Tata Zest's Semi AT.
So the whole scenario getting inclined towards Zest, the only partial advantage we feel, Toyota has over Zest is, its Diesel trim fuel efficiency which is 23.59KPL over Zest's 23KPL. But Tata zest wins the 2nd round of Petrol trim with the mileage 17.6KPL over Etios's 16.8KPL.
Brand image and after-sales service:
There would be hardly anyone who wouldn't know about how clear it is for Toyota to beat other brands in customer satisfaction quotient.
Toyota being a far better brand, with international values and technology, Toyota is our clear choice over Tata for being more reliable in after-sales service, resale value of products and better branding in India.
Final verdict:
Tata zest is a result Tata's whole hearted effort to put them in a commanding position in the market and luckily they are succeeding towards it. The only cause for concern for Tata is it's after sales service which is Toyota's main advantage. Toyota on the other side falls behind in some areas but Toyota still beats in our heart through earning sheer respect.
Tata Zest V/S Maruti Suzuki Swift Dzire
Price affordability:
Just like Toyota, Maruti knows well what its toys are capable of, and that's why they don't feel stingy to ask for what they deliver you.
Ending on a pricy side again, Maruti offers its Swift Dzire at a price range of 4.85-7.32 lakhs.
Here Tata Zest proves to be a winner arrives with the price between 4.64-6.99 lakhs lower than Dzire. 
Looks of the car:
Well in this department, we must say that Maruti has commendably carried over the Swift tradition with a fresh feel in it, which also shows its popularity in the market.
Whereas Zest feels fresh, but in an overall look and compact design elementary, Tata should learn from Maruti and Honda as well, the art of making a good and compact sized Sedan and not a very uneasy one like Zest.
Interior wise Dzire might look basic in its considerably old cabin feel, whereas Tata has injected such high-class feel in Zest.
Space in both the cars remains comparable though, Maruti hadn't made it to race amongst the most spacious in the market and so does Tata. 
Powerful engine and fuel efficiency:
In the engine compartment though, both the cars feel clashing head-on-head for supremacy in this comparison.
While we talked many times about Tata Zest's engine being more powerfully performing than most of the cars in the segment, with Dzire, the competition goes very close.
But still, with more powerful and active diesel engine, Tata leads the way which is said to be quicker rivals of it.
But in transmission, Tata's so called F-tronic system is good, which is a plus point for Tata in totality against Dzire, which is built with slow and dated set of 5-speed AT and MT systems.
But to achieve all-round leadership, Tata has to work hard to churn as much value for money through fuel to its customers as Dzire does when it delivers a mileage of around 19.1 KPL through petrol and around a satisfying 23.4 KPL through diesel engines, whereas Tata zest Petrol car gives 17.6 KPL lower than that of Dzire and Diesel engine gives 23 KPL which is a bit lower but not too like the petrol one.
Brand image and after-sales service:
Maruti is known for its market dominations from decades. And without having a satisfactory all-round customer services, it is just not possible.
Among both these Indian giants, Maruti would be more reliable a choice for better after-sales experience over Tata's outshined infamy in customer satisfaction.
Final verdict
So on a final call, we would surely pick Maruti Suzuki Swift Dzire for its fair display of rivalry against Tata Zest and for chasing it down in almost every section with young spirit of comparison and finally with a more driver friendly way of being reliable.  
Tata Zest v/s Honda Amaze  
Price affordability:
If there is a more suitable car in this comparison to Tata Zest for being an accurate rival, then that is Honda Amaze.
Even in the affordability count, Amaze with a healthy and reasonable price range of around 4.99-8.21 lakhs costs just right.
Whereas Tata's rates are quite low especially the price of top variant, Zest is priced at 4.64-6.99 lakhs. 
Looks of the car:
In looks segment, both the cars look nearly equal with Tata Zest looks like wearing the Amaze borrowed design profile.
But Zest on the other side looks way too compact as compared to Amaze, which looks charming and fits people well inside.
Zest looks rich from the inside and looks aggressive from outside.
Still, we like Honda's commendable pull of a boot over Brio's Hatch profile and hence, we pick Amaze here. 
Powerful engine and fuel efficiency:
Already aware with Zest's pros and cons, let's know how Honda performs against it.
With a bonding of two revolutionary and light weight engines i.e. 1.2 litre petrol and 1.5 litre diesel engine. Honda will appeal you much better than Zest's 1.2L petrol and 1.3L Diesel engines. Honda with such low weight and low-end grunt, Honda clearly outperforms Tata very clearly.
An optional AT system for petrol and a MT system for diesel remains standard and opposite to the Zest's pattern though which incorporates Semi AT in diesel to change equation of the market.
Honda, after achieving most of the perfections in driving world, now focuses towards fuel economy and with an average of around 15 KPL from AT and 18 KPL from MT in petrol and 25.8 KPL from diesel fuel, On the contrary, Zest lags behind in both Petrol and Diesel trim with the mileage of 17.6 KPL and 23 KPL respectively.  
Brand Image and after-sales service:
In brand value again, Honda holds a good position in market and its vehicles are known for their hassle free long term operations.
And with such fan-following, we feel it's hard for Tata to even match up with Honda due to its strong hold over market. 
Final verdict: 
With such clear competition and such remarkable uphold, Honda would be any day a better bet over Tata for its quality, performance, reliability and life. But time has a brutal power to turn the tables around quickly, Let the time decide whether Zest can change the fate of Tata or not. Zest with its pricing and engine performance is not a bad deal as well.