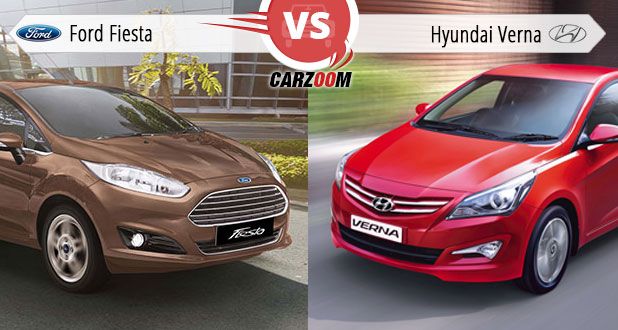 During its initial phase Hyundai Verna was a segment ruler which was dethroned by various competitors especially by new Honda city which manages to tick 5000+ units a month. Maruti Suzuki also introduced a new rival to tackle Verna and city as Ciaz sedan last year which is getting a decent amount of bookings. Hyundai Verna serves in very tuff segment against the likes of City, Ciaz, Linea and some of the segment leaders like Skoda rapid and Volkswagen Vento in terms of ride and handling. So to give answer Hyundai has launched new Verna Christened as 4S fluidic Verna with many cosmetic changes and slight tweak in fuel efficiency.
Ford has launched its Fiesta sedan in a face-lifted avatar last year, we instantly realized that it certainly had launched Fiesta at such prices and features, that's it's also going to give good rivalry to its market counterparts. And hence, keeping the tradition after a launch of any car in mind, we are here bringing you a healthy and very exciting comparison between two cars, one of which is our Ford Fiesta Facelift Vs customer charmer and looking for boost sales figure and to regain the lost top spot, the new Hyundai Verna Diesel.
We will be comparing only the diesel variants as Fiesta now offers a single Diesel variant only.
Also See: Visit Our New Ford Fiesta 2014 FAQ section containing all small-yet-useful info altogether for your convenience
Prices
In the price segment, Ford Fiesta comes with more affordable price range of around 8.50-10.18 lakhs for the three trims.
While the new Verna from Hyundai is a bit expensive bet with its 10 class variants including the petrol ones costing around a range of 7.73-12.19 lakhs.
Hence, Ford here seems to offer more affordable car than its competitor with almost equal level of charms and features, making itself our pick for the segment.
Engine and Performance
Under the hood, the new Fiesta now breathes only through a tough 1.5 litre TDCi SOHC engine with power 89.85bhp and 204Nm of torque figures while the Verna comes in a range of engine options from both the fuels to choose from.
But still, considering only the diesel ones we have a 1.4 litre CRDi diesel mill with figures of around 88.7bhp and 219Nm torque and an even mightier top of the line 1.6 litre CRDi VGT Diesel engine with huge power and torque sums of around 126bhp and 259Nm, Verna seems a better bet for a few extra bucks.
So, it should be clear enough that we would here pick Hyundai for its engine performances to be on par excellence with best in class acceleration infused in diesel mills. Also, the Verna engines are more responsive, quick, quite and an optimum in efficiency over Ford's evenly competent but a bit low performing engine.
Apart from that, while the Fiesta coupled with a responsive 5-Speed MT system, New Verna on the same place, places into itself a more refined, quick and noiseless and same 6-Speed MT for the diesel mills with an optional 4-Speed H-matic AT system but we expected Hyundai to introduce at least 5 speed AT in new Verna but it didn't happen which is a disappointment.
And finally, in the claimed efficiency count, Verna diesel again impresses us with a nice fuel economy of around 24.8 KPL from the MT versions, while it's AT variants would be as good as to deliver a decent mileage of around 23.5 KPL. Though, Fiesta with its only diesel MT version also offers better mileage figures than Verna now i.e. 25.01 km/l.
So on an overall engine and performance count, we think Ford delivers better refined engines & efficiency, but here Hyundai delivers evenly refined engines with total performance topping capabilities. We pick Verna here.
Also See: Visit Our Hyundai Verna FAQ section containing all small-yet-useful info altogether for your convenience
Space and Dimensions
Comparing both the cars in dimensional area we got the Verna to be bigger at around 4370 x 1700 x 1475 mm and a wheelbase of 2570 mm which equally proportionate towards better inner cabin space.
Fiesta on the other hand is measured at 4320 x 1764 x 1486mm with a wheelbase of 2489 mm which indeed seems smaller in counts than Verna, even if by small figures.
As far as their ground clearance is concerned, Hyundai offers a way better figure in its Verna than Ford Fiesta. Verna gets 170mm of GC over the Fiesta's 159mm.
Drivability and Safety:
But once again, there is this segment where Ford remains undisputed by Verna as it is world renowned for its more able driving and handling skills borrowed and blessed to it from its ancestors. But that doesn't make Verna anyways less drivable with a very light weight and evenly light steering feedback to control the car. But still, made for more comforted rides, Verna may stress you a little while hitting hard corners which Fiesta does in total control.
Though in terms of ride and handling it far away from cars like from Vento, Rapid and Fiat Linea and when we compare it to Fiesta in this department, Fiesta seems to have an edge especially because new Verna's EPS and dynamics are slightly dull.
Even on the highway driving terms, people had usually termed Verna to be not so friendly a car to the driver on high speed cruising to be way to lighter and discomforted. While Fiesta is total handler with a tuned suspension for extra soft yet controlled rides all over.
While in the safety department, both the cars would be ranked equal with inputs like ABS+EBD, cruise control, Rear Park assist etc. While Verna even here has an upper hand with extra features like 6 Airbags, 5 stars in NCAP ratings, rear parking sensors with display assistance, projector headlamps with escort function over Fiesta's 2+1, seatbelt pretension, Electro Chromic Rear View Mirror, Discs in all wheel option and Impact and Speed Sensing Auto Door Unlock.
Still, we think with better and time tested driving abilities, we would recommend the Fiesta to be our choice in this segment. Though Verna comes with extra safety features is also undeniable.
Interiors and Exteriors
Outside, New Verna witnessed some prominent cosmetic changes especially at the front fascia like old eagle eyed shape headlamps have been replaced by new Projector headlamps, new fog lamp design with L shaped LED strips, dual slat front grille, rear side with Mercedes CLA inspired reflectors, new LED tail lights which looks more youthful and eye pleasing than Ford Fiesta.
Ford Fiesta might not look fresh as fresh as new Verna but it's not bad either at all with features like an Aston Martin inspired front chrome grille which new Ford Figo hatch and Sedan also flaunts in recently spied Pics, new lengthy and chiseled headlamps with silver effect, front and rear bumpers with new rear tail-lamp cluster and chrome bits etc.
But still it cannot beat New Verna for its more modernistic and youthful approach based on new 2.0 Fluidic Design hues infused very sportily. Front side looks much more refreshing and can give tough competition to its rivals in the segment.
Even from the inside, while Fiesta looks fairly similar to its predecessor in cabin design with a new optional grey cabin theme with glossy-black central console looks cool. The New Verna again gets an upper class treatment with beige and black theme for the cabin, cool black gloss dash trim and leather upholstery even on the doors where Fiesta wraps leather only on the steering wheel.
New Verna now gets a tilt functioned steering wheel, a 2DIN audio system with 1GB internal memory but Hyundai should have brought a touchscreen unit even as option if not as standard equipment.
Apart from that, both cars cater features like driver information displays, push start button, Climate Control etc.
Apart from that, there can be seen a very healthy clash for features in between the cars where Verna features options like smart key, sliding front armrest, cooled glove box etc. Similarly on the other hand, Ford has much to offer as well like a SYNC system and voice control feature to control almost all the systems of the car.
But if again, there's a place where Verna can boast very proudly over Fiesta then it is passenger comfort section with better space for passengers and for luggage as well.
Overall, we still pick Verna to be our choice here with almost equal features, yet better comfort levels.
Pros and Cons
Ford Fiesta Pros and Cons
Pros
Cons

Drivability

Features

Reliable and trusted engine

Top notch safety features

Smaller size

Not so beautiful overall

Low engine optimization in comparison

Space and comforts
Hyundai Verna Pros and cons
Pros
Cons

Aggressive Styling

Engine specs

Acceleration and efficiency blend

Space and storage

Features and comforts

Fragile Handling

Cost

Missing necessities- rear disc brakes, touchscreen infotainment system, cruise control etc.
Final Verdict
Finally, based on the comparison, we choose New Verna to be our ultimate choice with better performance figures, aggressive looks, comfort, safety and features but it surely doesn't mean the Fiesta is degraded, it still looks boxier with a single engine option which makes it considerably a low-keyed competitor against the New Verna. New Verna feels more able and driver oriented in total affordability.