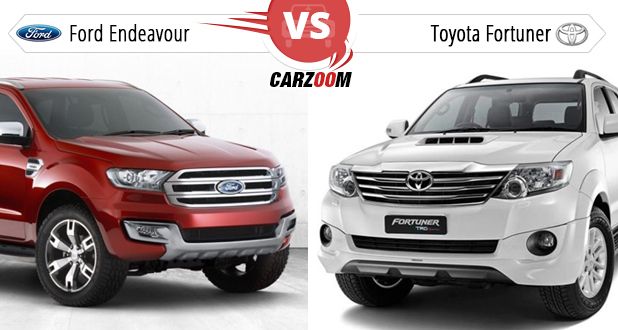 There is always an uncrowned king in every field of life and just like that machines are no different and when we talk about a bunch of machines of similar capabilities, we also talk about choosing still the best out of them. Comprising with the same phenomenon we here brought you some comparisons to help you choose the best of the Indian upper market SUV segment with the launch of the new Ford Endeavour. But as we said, there is always an uncrowned king, so how could we let the heat of this comparison section to be subdued by not comparing the newbie of the lot with the boss, and that's why we bring you an in-depth comparison of the new Ford Endeavour versus the bully of the segment, the Toyota Fortuner.
Prices
Well, as we have already tagged the Fortuner as the uncrowned emperor of the segment, then you must not expect any bargain for it to be cheaper in the price department. Whereas the two-engines-three-trims of the new Endeavour ranges from 23.69-28.15 lakhs, the single-engine-three-trims of the Fortuner costs 24.17-27.2 lakhs for the top variant, typical Toyota pricings.
Endeavour here stands a clear winner in affordability count though
Also See: Visit Our Ford Endeavour FAQ section containing all small-yet-useful info altogether for your convenience
Engine and Performance
We already know of the new Endeavour engines from our former reviews, specs and comparisons that it boasts two TDCi VGT/DOHC 16 Valve engines that are-
2.2 ltr  4×2 MT
2.2 ltr 4×2 AT
2.2 ltr 4×4 AT
3.2 ltr 4×2 AT
3.2 ltr 4×4 AT
While the Toyota's spellbinding skills are all here under the Fortuner's hood with a 3.0 ltr D-4DCommon Rail FI engine which churns out massive figures of power and torque that is,[email protected] and [email protected] The figures for the Endeavour go something like [email protected] (2.2L), [email protected] (3.0L) and a decent torque production of [email protected] (2.2L), [email protected] rpm (3.0L).
Fortuner is massive and its power feels brutally raw, but the Endeavour here is no kid either. Being a Toyota product, Fortuner here with its QUALITY trend would never let you down on a long run of engine life while the FORD's legacy is no less either with more focus on driving comfort engines. Still, Toyota stands a winner with its much rejoiced on-road performance with an enhanced intercooler turbo to pump up the whole experience.
Transmission wise, the Endeavour offers a 6-speed manual for the 4×2 and a 6-speed auto transmission for the top 4×4 variant, while the Fortuner lacks in fancy when it operates its top of the line 4×4 engine with a 5-speed manual engine on paper, but still a joy for the true enthusiasts for a more refined off-road and ALL-TERRAIN capabilities. Still, the 4×2 5-speed auto box is there to compensate the swift and sleek city rides if you want an SUV with soft road abilities. Otherwise, with 4×4 optimum performance, the Fortuner literally out performs the Endeavour in an overall performance count. Though Endeavour in its 4×4 variants provides a SHIFT-ON-FLY shifter to choose between 4×4 and 4×2 driving but the Fortuner here gives you no such choice with its full time 4WD driving, still comes with 3-Mode driving option for better road and terrain abilities.
The mileage figures though, for both the cars remain decently similar yet low for the Indian market at around 13 KPL from the Fortuner and 14.12 KPL from Endeavour, embarked by ARAI. Drivability and Safety
Also See: Visit Our Toyota Fortuner FAQ section containing all small-yet-useful info altogether for your convenience
In terms of driving, Fortuner is a class apart really. Both the cars are packed with all the safety features such as ABS with EBD, cruise control etc. but here again, apart from general safety, handling and driving features the Toyota has an upper hand when it blesses its market topping SUV with add-on features such as VSC which ensures the controlled collaboration of engine output and braking when an unusually abrupt operation of steering is detected during sudden and emergency conditions. Apart from that, an immobilizer into the GOA body of the car (Global Outstanding Assessment) which toughens up the overall built of the cabin and ensures lower impact on high speed collisions. While the Endeavour is also into its own league of safety with Ford's patented Dynamic Safety Engineering and features for safety such as collapsible steering column come standard.
Apart from that, Ford loses behind the Toyota team which makes Fortuner stand up high on 17''neat wheels with a total ground clearance of 220 mm. but Endeavour moves about on a set of16'' wheels giving it a total ground clearance of 210 mm. Fortuner rises high here again.
In braking department and handling, both cars are phenomenal. Though both the cars lack a call for rear wheel disc brakes but manage the drill quite well enough. Fortuner, with its advanced hydraulic steering combined to the double Wishbone front with high mount and 4-link rear lateral control rod suspension system balances better altogether on the road and off too, which is way better than the Ford's conventional Leaf suspensions any day. And so, not only against the Ford's hulk sized and bus length SUV, but against all the existing SUVs of this segment, the Fortuner stands truly as an emperor from which others can seek to borrow balance of rule and roll.
Interiors and Exteriors
Coming towards the facial features of the cars, Toyota Fortuner, unlike the Ford Endeavour is not as cute and charming a car. But that's not bad, because rugged and masculine is the new definition of charm nowadays and that's why Fortuner with its chrome finish options, ORVMs with foldable mirrors, side stepper, sporty bonnet scoop and hunky front grille looks killingly emphatic. The Endeavour though, looks cute and sweet in the new face and chrome bites, but Fortuner clearly dominates it with all the savage stuff for its no-nonsense road presence and size, and not length unlike the Endeavour. Apart from that, the Auto HID lamps with washer, a sporty spoiler and high-mounted stop lamp on spoiler not just looks sportily cool, but makes it look huge and in control as well. Amenities like rear glass washer and wiper, foldable chrome ORVMs and side stepper remain standard on the Endeavour as well though. But Fortuner here, for us remains the show stopper in this section despite being the older model.
A peep inside, and you'll know that Endeavour might look cute, but is still loaded inside with all those new and revised beige working in compliance with the titanium finish on the instrument cluster and panels smoking the Fortuner's old black wood panels with an ease. Toyota's interiors are great, not as good as of Endeavour's, but they work just as royally. Endeavour's touch screen system looks more futuristic than Fortuner's MID which controls most of the data of the car such as mileage, temperature, clock etc. in both the cars. Toyota really need a revamp here with a new audio system, the usual one is touch screen but feels dated against the Endeavour's.
Seats of both the cars look and feel rich with enough leather wrappings and room inside is huge in both but Endeavor with its huge space and comfort of equal level in all the three rows is outstanding. Both the cars are equipped with Climate Control and AC vents even in the last row. So, in the inside too, only if we leave out the technological creature comforts aside, the Fortuner rules here as well in the space and overall comfort department. The only thing which needs to improve is to tempt the customers with fancy stuffings inside. But if we can spare it on that, than Fortuner is a true package. Pros and Cons
Endeavour Pros:
Good looking
Better equipped
Terrain management system (TMS) with four modes
Ultra spacious car
Ford's excellent engineering
Endeavour Cons:
AT is tad slow to respond
Fortuner Pros:
Massive feel and size
True driver's car
Best in class abilities
Toyota's trust
Better on-off road machine.
Fortuner Cons:
Expensive
Turbo lags
Interiors need a touch
Final Verdict
New Ford Endeavour is fresh and strives to dominate the segment with its new skills, thrills and features, but it is still in a league to learn from its masters in the market already, and the best teaching comes from the Lord itself that is Fortuner only. The new giant SUV seems to tick all the right boxes and is a unique mixture of powerful engines, potent ride ability, AWD and bouquet of new features. With the aggressive pricing strategy underpinned by the Pros it has to offer, Ford's new powerhouse SUV is probably the best bet in the segment.