Founded in 1913, Datsun is one of the oldest brands in the world enjoyed great success till it said goodbye to the industry in 1986. The Japanese carmaker Nissan decided to give rebirth to Datsun in 2013 with launch of affordable Go hatchback. But the Datsun brand had worst possible start as its first two offerings Go hatch and Go+ MPV failed miserably to make any kind of impact in the Indian market due to obvious cost cutting measures which turned out to be deal breakers for some. Despite at pocket friendly price and decent engine, the Go hatch is now used moreover as commercial vehicle.
The Go+ MPV also failed to attract buyers despite being the country's most affordable seven seater MPV. What made matter even worse was Go hatch's dreadful performance in NCAP crash tests which urged them to withdraw hatch from the market. For the country which is obsessed with price affordability and mileage, Datsun launched its third vehicle redi-GO which share some elements with its cousin and arch rival Renault Kwid. During our expert review, we found out redi-go is a far better attempt than the previous ones but it too had some dykes. Here we are going to inform you about the pros and cons of redi-go to simplify your buying decision.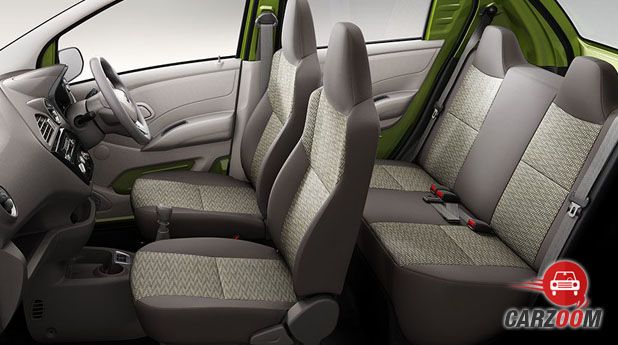 High:
Datsun Engineers have done tremendous job by designing it closely to the concept showcased at 2014 Auto Expo. With young and off-beat styling which is based on YUKAN theme (bold and brave) makes its competitors look simple and outdated.
Datsun sold 3000 units of redi-go in just 23 days and one of the major reasons for such an overwhelming response is the pricing. Starts at Rs. 2.38 lakh which goes up to Rs. 3.34 lakh (ex-showroom Delhi) under its cousin Kwid and segment leader Alto by decent margin.  
It is equipped with same engine of Kwid which has adequate zest for the urban spaces and light steering wheel makes it a perfect urban commuter. Thanks to light weight platform, it feels light on wheels when zipping around the tight corners.
Despite being the shortest in the segment, the space inside especially headroom is adequate thanks to tall boy stance. Besides, seats are supportive and cushy enough for city jaunts.
Other noteworthy advantages redi-go have is the class leading ground clearance, segment best fuel efficiency of 25.17 Kmpl, 222 liters of cargo capacity and up to 5 years of warranty making it a great bang for your bucks.
Low:
Though Kwid is available at higher price but justifies it with features like digital instrument cluster, 7 inch touchscreen system with navigation whereas redi-go misses out on essential like keyless entry and central locking.
The 3 cylinder engine behaves in a typical manner which vibrates even at idle and left you with high irritating sounds inside the cabin. Things even get worse due to lethargic NVL levels.
Previous two models didn't found customers mainly due to simple cabin underpinned by cost cutting measures taken by Datsun. Redi-go might be good on space and design but cost cutting is still evident such as exposed metal behind the B-pillar, it also gets single wiper and 3 lugnut on wheels.   
It still compromises on safety despite having poor track record with previous models. Airbag is limited to top variant as an option while ABS is not available on any of the variant.